Invisalign®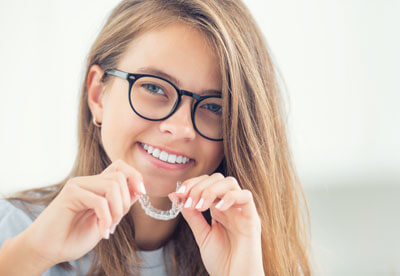 Invisalign® is an 'invisible braces' system. The orthodontic treatment involves using a series of clear plastic aligners, each custom designed and fabricated to work in a special sequence with one another. The Invisalign system can correct crooked teeth without impacting your life the way traditional braces do. You can eat the foods that you like and smile with confidence, maintain your oral health and enjoy peace of mind knowing that the solution to your misaligned teeth is unobtrusive to your lifestyle. It's the perfect solution for adults who have always wanted to straighten their teeth.
Dr Chris Lauf (Dentist) has been accredited with Invisalign since 2008.
Benefits of Invisalign
One of the most beneficial features that Invisalign offers is the flexibility to remove the teeth-straightening aligner at any time, rather than wear a fixed attachment like traditional braces. Clean your teeth with ease and maintain optimal oral health with removable Invisalign aligners.
Perks include
Virtually-invisible teeth straightening for adults!
You can smile comfortably without treatment being visible
Conveniently remove the aligners for meals and special events
Easily brush and floss, promoting healthy teeth and preventing gum disease
No irritating metal rubbing the inside of your mouth
Fewer and shorter visits compared to braces
Virtual images to view how amazing your teeth will look after treatment
Is it Right for Teens?
Normal braces are best for teens though Invisalign may be considered in some cases. We invite you to visit with us to discuss your teen's orthodontic options.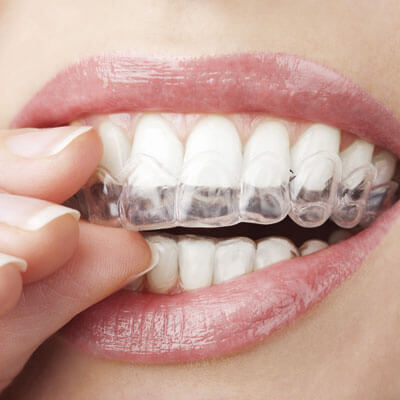 Invisalign Treatment Process
During your routine checkup, Dr Lauf can determine if you are a good candidate for Invisalign. The clear trays are good at correcting mild to moderate cases of misaligned teeth, though are not always suitable for everyone.
Next, dental impressions, X-rays and a digital scan is taken of your teeth for a full clinical assessment in order to formulate the best treatment options.
Based on the information gathered; visual 3D imaging is created to show you exactly what the results are expected to look like! Our Invisalign dentist in Aspley loves technology and sharing these exciting moments with you in visual, more interactive ways.
You will be given a set of custom-made aligners (3-4 at a time) for you to wear all day, every day and transition to the next aligner every 2 weeks.
You will have an appointment with us approximately every 6-8 weeks to monitor the progress of your treatment and receive the next series of aligners.
Once you have completed your final series of Invisalign aligners, you may need to use retainers to help make sure the new position of your teeth is held in place. Then all you have to do is enjoy your newly transformed, beautiful straight teeth.
Book An Appointment for Invisalign
Our Aspley dentist serves Zillmere, Albany Creek, Wavell Heights, Carseldine, Chermside and the surrounding suburbs. For invisible teeth straightening close to Aspley, contact us today.
CONTACT US »

Invisalign® Aspley, Serving Zillmere, Albany Creek, Wavell Heights, Carseldine, Chermside, Bridgeman Downs, Geebung, Alderley QLD | (07) 3263 1310