Braces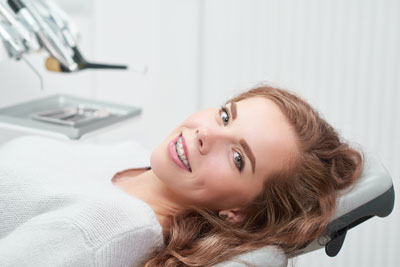 Straight teeth offer so much more than just a beautiful smile-orthodontic alignment can also improve the health of your teeth, gums, underlying skeletal jawbone and even improve speech. At Smile Central, our gentle dentist will not only examine your teeth individually but also assess the overall functional positioning of your upper and lower jaws. In many cases, dental problems experienced later on in life could have been prevented if orthodontic treatment was performed during the patient's younger years, before the impact of age-related wear and tear occurs.
Luckily, orthodontic correction can be completed at any age and the benefits last a lifetime. Traditional braces are the most reliable and trusted option when it comes to orthodontics.
How Effective are Traditional Braces?
Gone are the days when a thick metal band was placed around each and every tooth. Orthodontic appliances are now more comfortable and can be made of metal, ceramic or plastic. They may be removable or they may be fixed onto the teeth with an adhesive bonding agent. By placing a constant, gentle force in a carefully-controlled direction, orthodontic appliances are designed and adjusted to slowly realign teeth into more optimal positions.
Types of Braces
Fixed brackets can be clear ceramic or silver metallic; colours can be added in the form of ligature ties that hold the wire in place. Wires are far less noticeable than they used to be and the latest materials move teeth faster with less discomfort than ever before.
Visits occur every 4-6 weeks with our dentist, Dr Chris Lauf (Dentist), who will monitor tooth movement and adjust the braces. To achieve long lasting results, perfect alignment of straight teeth usually takes anywhere between 1-3 years. After optimal correction has been achieved, the braces are removed, giving you total transformation of your smile and improved function. It is important that teeth are retained in their final position for a period of time after braces are removed to avoid relapse. Retention includes provision of removable clear plastic retainers. Clear orthodontic retainers are very comfortable and ensure that your teeth stay straight.
It is imperative that your teeth and gums remain healthy to avoid any delays with your orthodontic treatment. Our patients have the benefit of visiting our hygienist for regular 3-6 monthly cleans and fluoride treatments to prevent other dental issues from occurring. The benefit of visiting Smile Central in Aspley for fixed orthodontic braces is that you can gain confidence that the condition of your teeth underneath the braces is also being monitored along the way when you visit us for routine dental check and cleans.
Dental Visit: A detailed dental examination is required to ensure your teeth are healthy and deemed ready for orthodontics. Orthodontic treatment is generally not recommended until the mouth is in good condition, without any signs of gum disease or tooth decay. During a normal dental check up with us at Smile Central, you will be advised if orthodontic treatment is something that could benefit your smile.
Orthodontic Assessment: A series of dental records including multiple radiographs (X-rays), photographs and impressions to make models of your teeth are required for Dr Lauf to analyse, measure and formulate a suitable course of treatment specifically designed to correct your orthodontic problems and straighten your teeth. A 3D face scan (CBCT Imaging) is also conducted to ensure enhanced accuracy in diagnosis and detailed planning of your case.
Treatment Presentation: A 1-on-1 consultation with Dr Lauf allows us to present a summary of clinical findings and diagnosis, explaining treatment options available to achieve the results you desire. This is the best time to ask any questions you may have about orthodontic treatment and how it will impact you or your child. An estimate of costs will also be presented for your further consideration as well as health insurance rebate enquiries.
We recommend and facilitate monthly payment plans for orthodontic treatment.
Get Started Today
Quality braces treatments give you a head start on healthier teeth and gums. Contact our Aspley practice today to reserve a consultation.
CONTACT US »

Braces Aspley, Serving Zillmere, Albany Creek, Wavell Heights, Carseldine, Chermside, Bridgeman Downs, Geebung, Alderley QLD | (07) 3263 1310