Children's Dental Care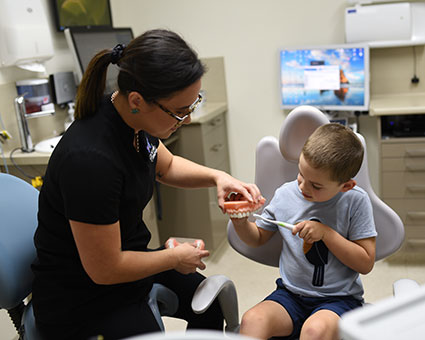 We work closely with parents so they can make the best informed, responsible choices on behalf of their children. Our staff are highly trained to care for children and understand that they each have specific needs. We always dedicate time to explain your children's risk of dental disease, preventive strategies and modern innovative treatments as applicable.
With strong emphasis on delicacy for treating children, we operate in a respectful manner and place high level of importance on providing young patients with positive experiences. We promise to always let their voices be heard.
Your Child's First Dental Visit
Our caring practitioners are passionate about reducing dental health implications and recommend children visit our Oral Health Therapist for a simple dental assessment after the first baby tooth erupts around the age of 1. Dental anomalies can be detected very early and this first visit is designed to be interactive and fun for the child, as well as informative for parents regarding how to prevent childhood caries (decay).
Preventative dental care provides your child with the best possible chance for their developing teeth to be healthy as long as possible. Providing insight and meaningful oral health education to help them establish good dental hygiene routines at home promotes healthy habits that will continue to benefit them throughout life.
Preventative dental care includes a variety of minimal intervention strategies to improve dental health of teeth, gums, tongues and growing mouths on an ongoing basis, such as
Detailed information about best types of toothpastes, brushes and other products designed to make the daily hygiene easier and more effective
Detection of the first signs of cavities; once you know that active decay is occurring, implementing strategies to slow down or even cease progression
Strengthening enamel with targeted fluoride treatments
Advice about dietary habits that contribute to dental decay
Detailed instructions about home care routines and daily tooth cleaning techniques
Sealing of deep grooves, which are prone to trap plaque and food particles on flat surfaces of molars
Removal of excessing plaque and tartar deposits that accumulate around the teeth and below the gums
Early identification and assessment of orthodontic issues manifesting during growth patterns
Radiographic assessment to help predict positioning of wisdom teeth by age 18
Help to influence aspects of uncontrolled diabetes
Improve cardiovascular health and prevent complications in various heart conditions
Influencing good nutrition
Fitting of sports mouthguards to prevent catastrophic dental injuries
Once your child has all of their adult teeth (from around the age of 12) and participates in any form of contact sport, we recommend they wear a mouthguard. Suffering from a dental accident at a young age can lead to a medical emergency, involve costly treatments to repair and have long term implications on their appearance. Not to mention dietary habits. Fortunately, injuries can be totally prevented by wearing a sports mouthguard to both training and sporting game events.
At Smile Central, we provide custom-made, professional mouthguards, which significantly reduce tooth loss and concussions. These devices are moulded to correctly fit your child's teeth. Studies have revealed that this safety measure can also decrease their risk of sustaining a more serious neck or jaw injury. Custom-made mouthguards are available to patients of all ages, so you can enjoy the sport without the fear of sustaining a dental accident.
The Wand is available for use on young children requiring dental anaesthesia. Your child will hardly notice the sensation of painless injections at Smile Central. We recommend this numbing method if your child needs dental treatment. Don't ever use the word 'needle' when talking to them about dental procedures. Talking about 'The Wand' rather than a 'needle' keeps children calm and curious rather than anxious or frightened. When children ask what The Wand does, we simply say 'it gives your tooth special medicine so it goes to sleep!'.
In many cases, a dental injection is the first time that your child will experience what "numb" feels like. It is best described as if the tooth "falls asleep" feeling fuzzy, heavier and tingly.
Book a Visit Today
An Oral Health Therapist is especially trained to provide general dentistry for children. At Smile Central, all children visit our therapist who is trained to make dentistry virtually pain free and is excellent at caring and coaching children through their dental appointments. Creating positive dental experiences from a young age is important for your child's ongoing health and development. Here, they learn that dental appointments are nothing to be fearful of because they make your smile pretty and clean! With modern technology, compassionate providers-dentistry at Smile Central, Aspley on Brisbane's Northside is a breeze, even for the little ones.
Is your child due for a dental checkup? Contact our friendly Aspley dental team to schedule.
CONTACT US »

Children's Dental Care Aspley, Serving Zillmere, Albany Creek, Wavell Heights, Carseldine, Chermside, Bridgeman Downs, Geebung, Alderley QLD | (07) 3263 1310