Crowns & Bridges
Dental crowns and bridges are highly effective, aesthetic restorations ideal for our patients suffering from extensive decay, fractures or continual tooth breakage.
Porcelain Crowns
Smile Central crowns are constructed from a tooth-like, porcelain material that encases a damaged or misshaped tooth. This restoration is fabricated with a detailed, non-invasive scan using state-of-the-art technology for precision and efficiency. Each customised crowns replicate adjacent tooth-colouring and are precisely fitted.
Crowns are an effective means to achieve aesthetic and functional repair of a tooth that has suffered the effects of decay or fracture. The aftercare for a porcelain crown is the same care you would apply to your natural, healthy teeth.
Dental Bridges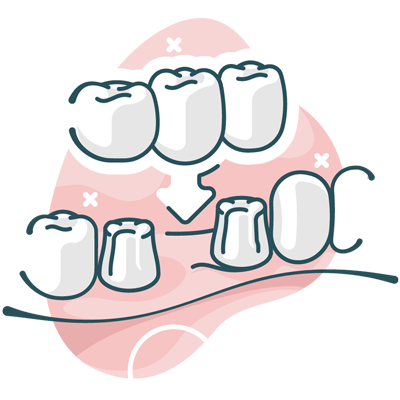 A dental bridge is a restoration treatment involving three or more dental crowns fused together to replace a missing tooth. In order for the dental crowns to be bonded in place, the teeth on either side of the gap are shaped and prepared for placement. This restores dental functionality and structure support to that of natural teeth.
Smile Central professionals have a wealth of experience and knowledge to determine the most suitable treatment to deliver the best results based on each patient's needs and requirements.
Bridges are an effective solution to replace missing teeth. Based on your oral health assessment, our dentist may recommend a dental implant as the preferred solution unless affordability is your primary concern.
Once upon a time, ceramic crowns and restorations would take multiple visits and a number of weeks before the final restoration was ready to place. With great technology and a gentle dentist, Smile Central can give you stunning final results on the same day. Smile Central uses digital methods to create a perfectly fitting dental crown for natural teeth and implants.
The CEREC Omnicam made by Sirona Dental is the most advanced dental digital impression system available and Smile Central's Dr Chris Lauf (Dentist) has over 20 years of experience using this revolutionary technology. This technology allows for 3D imaging which assists us in creating beautiful, natural looking and durable ceramic or porcelain restorations. Our ability to scan the teeth to create digital images ensures total accuracy, giving you the best looking and feeling smile possible in just one appointment!
CEREC (ceramic reconstruction) features a computer-aided design and milling machine that allows us to create your dental crowns, veneers, onlays and inlays here in our office. CROWNS are used to cover and encase the entire visible portion of the tooth while VENEERS are like thin shells that cover the front surface of the teeth only. Ceramic restorations are used to restore the tooth from a large cavity or replace defective, usually silver, fillings. The restoration is called an INLAY when it is cemented within the centre of the tooth. It's called an ONLAY when it covers the cusps of the teeth. Onlays, also called partial crowns, are more extensive than inlays and less extensive than crowns.
Traditional crowns, inlays/onlays and veneers are also called 'indirect' restorations because they are fabricated 'indirectly', in a dental laboratory instead of being moulded into place within the mouth during the dental visit. To create a traditional restoration, impressions of the mouth are made and sent to an off-site lab. A temporary crown is worn while the new restoration is being designed.
CEREC is the revolutionary technology that eliminates the long wait and need to temporise. The process is entirely computerised. The digital impressions are taken and Dr Chris Lauf (Dentist) will begin the computer-aided design of the restoration right away. The design is then sent to the on-site crown milling machine. Your porcelain dental crown is created and placed on the same day!
Same-Day Dentistry in Zillmere, Albany Creek
CEREC dental crowns work just as well as traditional dental crowns made in a dental laboratory. They are custom fit, durable and colour-matched with the rest of your teeth for a natural looking smile. Get beautifully strong, permanent restorations in just a few hours!
Call us today or book online.
CONTACT US »

Crowns & Bridges Aspley, Serving Zillmere, Albany Creek, Wavell Heights, Carseldine, Chermside, Bridgeman Downs, Geebung, Alderley QLD | (07) 3263 1310