Advanced Technology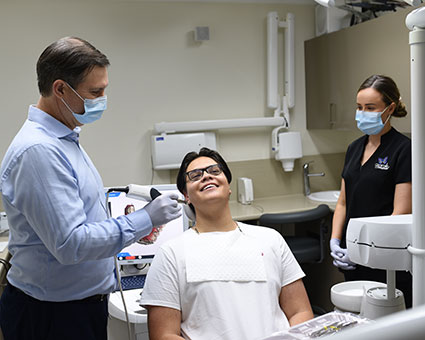 At Smile Central, we use the most up-to-date technology, including modern methods and delivery systems for local anaesthesia to ensure you have the most comfortable and stress-free dental experience. With the assistance of a computerised injection system called 'The Wand' partnered with a topical numbing gel, we are able to deliver the anaesthetic in a controlled manner so the 'stinging' feeling associated with numbing can be significantly reduced and the correct amount of fluid can be injected exactly where it is needed.
'The Wand' has the appearance of a fine tipped pen and as a syringe-less computer-controlled system, it delivers relatively pain free dental injections without the negative and now out of date associations and appearance of what is traditionally associated as a dental injection.
Is it Safe?
Dr Chris Lauf (Dentist) and his team have been performing gentle dentistry with 'The Wand' successfully for over 15 years and our patients, particularly those with negative experiences from previous dentists or dental anxiety, appreciate the increased level of comfort it provides.
Most people who have had a typical dental injection from other dental practices often experience a harsh sting followed by numbness, but 'The Wand' decreases this discomfort substantially. The stinging usually felt during typical injections is not actually from the needle itself, but the anaesthetic being injected too quickly. A highly skilled dentist can usually control the speed manually with a standard more traditional style syringe; however, the performance of The Wand ensures accuracy and gentle applications every time.
Numbing gel can be applied by our highly-trained dentist to ensure any sensations are predominantly limited to no more than slight pressure before receiving your injection if required or requested.
Conebeam technology (CBVT), also known as CBCT scanning, is available at Smile Central dental. Dr Lauf uses 3D X-rays to assist in diagnosis and allows professionals to make a well-informed decision about your treatment needs. X-rays are important for detecting underlying issues inside the body that cannot be seen by visual inspection alone.
With the aid of 3D X-rays and virtual imaging, you are able to visualise your results before your treatment has even begun, giving our dentist the ability to see beyond the obvious and more accurately predict the outcome of your health condition. In situations when people require multiple complex dental procedures, we highly recommend 3D imaging to enhance accuracy in planning the best treatment options for you to consider.
Typically, this advanced level of care and service is available if any of the following types of treatments are required
Dental implants (tooth replacement)
Endodontics (root canal therapy)
Orthodontics (braces)
Rehabilitation of multiple broken down or worn teeth to rehabilitate full function and a beautiful smile
This type of imaging does not replace the need for other types of dental X-rays, as they all provided different and specific images.
Anyone who finds themselves clenching or grinding their teeth, has jaw pain or discomfort or suffered a facial injury in the past can benefit from the information and data collected with a T-SCAN.
The T-SCAN is a diagnostic device that allows our dentist, Dr Lauf, to accurately analyse and diagnose the concerns of your bite. The T-scan offers enhanced efficiency to adjust your bite and prevent further problems with jaw joints and facial muscles.
How does it work? A computerised sensor is placed in your mouth while you bite down. Then the information software displays the contacts and levels of force in a detailed screening. This recording will show your bite movement from the beginning to end and immediately identify problem areas.
The ability to measure force over time makes the T-SCAN an indispensable tool for detecting an irregular relationship in your bite. We can view your bite position on the screen, so that you can see the impact it's having on the opposing teeth and jaw joints. It is instrumental in locating accurate diagnosis of bite disturbances in order to evaluate the potential for trauma based on how strongly you bite your teeth together.
We regularly collaborate with physiotherapists and welcome referrals to provide holistic care in order to enhance treatment outcomes in cases of neuromuscular pain, discomfort or impaired function.
Get Started Today
Our cutting-edge technology transforms the way Aspley area families experience dental care. Schedule your visit today!
CONTACT US »

Advanced Technology Aspley, Serving Zillmere, Albany Creek, Wavell Heights, Carseldine, Chermside, Bridgeman Downs, Geebung, Alderley QLD | (07) 3263 1310