Orthodontic relapse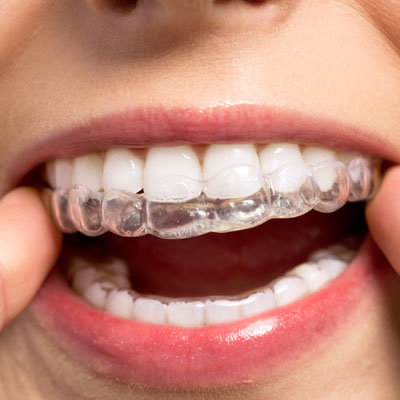 Anyone who has completed orthodontic treatment can be at risk of orthodontic relapse to varying degrees. Orthodontic relapse is the tendency for teeth to gradually return to their pre-treatment position, however with proper post-orthodontic care, relapse can be avoided.
Following orthodontic treatment, a metal wire or retainers will be prescribed to maintain your results; the non-removable metal wire requires minimal attention following treatment, whereas a clear retainer is removable and must be worn as often as your dentist or orthodontist recommends.
Reasons for relapse
The ligaments, gingival fibres and bone surrounding newly aligned teeth need time to "settle" into their new positions once treatment is complete. Teeth stabilise with time, but the risk of relapse is always present, and increases in likelihood when proper post-care routines are not maintained. In addition, factors such as genetics, tooth loss and habitual teeth grinding can cause similar issues.
Retainers are also used to monitor movement between appointments. If you suspect that you are experiencing orthodontic relapse, you can respond by wearing you retainer more frequently and have them professionally checked by your orthodontist or an orthodontically trained dentist, like Dr Chris Lauf. A well-fitting retainer should feel snug, but not uncomfortable or tight.
Retainer care
Fixed retainers are cleaned as you brush your teeth, but food debris and hardened calcified tartar can collect underneath wire and between the gums. Though metal wires require minimal attention and maintenance from home, attending your dental cleans at least one to two times per year are essential to avoid future dental issues.
If you have a clear retainer and handle them with care, your retainer can last up to five years. Just like any other orthodontic appliance, retainers are susceptible to wear and tear from chewing and teeth grinding. If handled too roughly, they can crack. If you suspect your retainer is lost, damaged or wearing out, make an appointment to have a new retainer made; the minor cost associated with making a new retainer is preferable to losing your orthodontic progress. This can be done by the dental practice you trusted with your orthodontic treatment, or by another dental practice if more convenient.
Help protect your removable retainer by placing it in a retainer case when not in use. Often retainers are placed in a napkin at mealtimes and thrown away by mistake, so be sure to keep your retainer in its case, or at least in a sensible and safe location while out and about.
If you have more questions about what happens to your teeth long after the braces are gone, or you think your teeth may have relapsed, have them corrected easily with clear aligners. Schedule a RETAINER CHECK with Dr Chris Lauf to find out more.